The Orgasm Gap describes where simple penetration provides orgasm for a male but not always for the woman. She generally needs more attention pre-penetration and more time and affection during penetration. She still may not always orgasm during sex.
And there we have one of the reasons we turn our husbands into sissies. The focus of a female-led relationship is ensuring the satisfaction of the mistress rather than the sissy; the orgasm gap does not work in an FLR. Dominant ladies have developed a very different orgasm gap. Wonderful.
Following my articles on preventing my sissy husband ejaculating and thereby reversing the orgasm gap, I am going to turn this post over to three people with an opinion on the subject — Mistress Kim, a dominant lady also from London, Jennifer a sissy in a long-term FLR, and my sissy husband, Alice.
This post contains affiliate links. I get a commission if you buy through them but the price to you is the same as if you go direct
MISTRESS KIM AND HER NEW ORGASM GAP
I've been in contact with Mistress Kim over the past few years and following my revent articles on preventing Alice's ejaculations, she told me about her own approach to the problem of male ejaculation.
Like me, Mistress Kim does not practise chastity and enjoys physical sex with her sissy husband, Emma. She also used to worry about the orgasm gap.
Kim never liked the messy end to things either and she believes this is common in women. She tried various approaches to get around the male cum problem, including having Emma concentrate on giving oral. But this wasn't sufficient as she feels strongly that penetration is an important part of love-making in a relationship. I agree with her.
Besides, Kim suffered from a problem I don't have — Emma could be 'trigger happy'. Even when there was no penetration, things often ended with a nasty sissy mess. This, of course, resulted in great frustration for Mistress Kim.

Mistress Kim sought advice from friends (we hadn't yet been in contact). One friend suggested Sissy Emma do exercises for her bum and genital area muscles to improve performance and control. It wasn't entirely successful so Kim began to consider for the first time what she calls, 'cum deprivation'. They are also a mature couple and procreation is not wanted.
Another friend suggested Mistress Kim use lubricant on Emma's clitty. The idea was that lubricant reduced friction on the over-sensitive end of Emma's clitty thereby increasing 'trigger time' during penetration. Kim stopped penetration for a while and worked on Emma's clitty with the lube and her hands and received oral as the only form of sex. She found hand massage with lubricant was successful at making her hard but also at increasing Emma's trigger time. She increased the amount of lubricant and always stopped before Emma got to the trigger moment— a kind of edging training.
Once she felt Emma had been sufficiently trained to edge, she re-introduced penetration using a great deal of lubricant to reduce friction on Emma's over-sensitive clitty end. Kim still had to monitor things to ensure Emma stopped before the messy moment arrived. This wasn't ideal as Kim could never fully relax and enjoy the moment.
Although this stopping-before-the-messy moment has worked well for me and Alice has showed commendable control, it was less effective for Mistress Kim. Despite the lube and the training, the sessions would occassionally end with the sissy mess Kim was trying to avoid.
After more discussions with her female friends on the problem of Emma still being unable to always control ejaculation, a medical friend proposed applying a light numbing cream to Emma's clitty end. Mistress Kim applied this by hand, making Emma hard while ensuring Emma lost feeling. Once nicely numb, Kim would clean the remainder off, to avoid it contaminating her own sensitive areas, and returned to penetration. This worked.
Mistress Kim found, as I have, that a sissy husband can last many times longer more often once cum deprived, giving an incredible performance and satisfying her many times over. She'd successfully reversed the orgasm gap. This is because things stop before the sissy ejaculates and then starts again once sissy is calmer making the sessions longer and more satisfying for the woman.
Kim no longer has to use the numbing cream as Sissy Emma is now trained to not cum using Kim's methods. It took a lot of effort to train her sissy but it was worth it in the end.
Mistress Kim and Sissy Emma recently celebrated 5 years of Emma's cum deprivation. Kim's satisfaction has never been better. This was a great approach to stopping a sissy's nasty ejaculations and gives a high level of mistress satisfaction.
Isn't an FLR all about achieving Mistress satisfaction?
SISSY JENNIFER AND THE ORGASM GAP
Sissy Jennifer wrote to me in response to my posts about about the benefits of eliminating sissy ejaculations — Sissy Mess Prevention and A Strict Wife.
Jennifer explained how she understood my reasons for ejaculation denial, reasons that were less well understood by some of the post's commenters. In an FLR relationship, the mistress's satisfaction is paramout. There is no second clause. A sissy's ejaculation is irrelevant to this objective, some mistresses practise chastity and ruined orgasms, I practise ejaculation denial. Different methods, same end result of no sissy orgasm.

Jennifer started out as a transvestite who enjoyed her masculinity being gradually stripped away by a dominant wife. Jennifer did much of the housework in high heels and worked with a frilly apron. Then came the day her Mistress wife made things official by presenting her with a maid's dress and she became a fully fledged sissy.
Jennifer was often denied once Mistress was orally satisfied and Jennifer accepted this as a condition of their FLR. She understood that her Mistress's pleasure was what mattered so never complained when she was denied a release. They never decided on chastity in terms of penetration as a rule but it led to a similar outcome after Jennifer gave satisfaction to her Mistress through oral and they found this was sufficient for Mistress.
However, the excitement of giving oral often made Jennifer ejaculate in her panties and suffer incredible shame. Unlike me or Mistress Kim, Jennifer's messing didn't bother her Mistress because it was inside Jennifer's panties rather than inside her. I don't like the damp washing smell of cum either but this didn't bother Jennifer's Mistress. As long as it wasn't inside her and Jennifer washed her panties after, this was fine.
In fact, Jennifer messing her panties amused her Mistress and she would laugh at Jennifer's embarrassment and lack of control. "I just don't want that mess inside me," her Mistress would say.
I will now quote Jennifer as she makes some great points.
"I am bringing this up because of your recent writings of how you are training your sissy to be hard but not to ejaculate. I get it, a sissy's mess is repulsive and no woman should have to deal with it.
In my case over the many years we have been in an FLR, I rarely get erections any more, partly from being a senior and partly because it's not required. My mess is no longer the mess it used to be but instead nothing more than a tiny drip if at all. As you mention, it's absorbed elsewhere in the body or excreted in the urine.
If your sissy [Alice] can accomplish cum deprivation while staying hard, you will have achieved what many women would probably prefer, even if her partner isn't a sissy or they are in an FLR."
Jennifer gets it.
ALICE AND OUR ORGASM GAP
I received many requests to get Alice's side of the 'no ejaculation / cum deprivation' approach to our FLR that also currently means no orgasm. So here are her views in her own words. You may be surprised.
"A few years ago my wife, Mistress Alexa, and I agreed we would live a Female-Led Relationship. This was a joint decision and we agreed on the rules.
One of these rules was that Mistress Alexa owns my body and specifically my genitals. There was no clause to this rule, I'd handed ownership to her. Obviously there was to be no damage or pain but otherwise, Mistress Alexa could and does do whatever she wants down there for her amusement and gratification."
"Up to recently, this involved me shaving and her having complete access. When she had the recent idea to deny my ejaculation, I had already signed over my rights to her so I never considered debating or arguing her decision. Whilst I discussed the implicatrion with her and looked at alternatives, my only option was to find a way to make this work however daunting the idea seemed. I love the idea of her having greater satisfaction.
It has become my responsibility during penetration to control my ejaculation and to stop or slowdown to avoid cumming.
I wouldn't have chosen this approach to our lovelife for myself but it works. As is usually the case with Mistress Alexa's decisions, she was right — her satisfaction and enjoyment of our sex life have increased enormously and that is the whole point of an FLR, isn't it? Love making has become entirely about her and that's how things should be."
Since I have to make this work, I researched the topic of denied male ejaculation and I was surprised to learn it is a well-known and common practice."
COITUS RESERVAS – SEXUAL CONTINENCE
"Cum deprivation or ejaculation denial is known formally as coitus reservatus or sexual continence or semen retention. It's where the male does not ejaculate inside the female partner and attempts to remain hard for as long as possible.
Through my 'semen retention', we have extended the regularlity of lovemaking and penetration period and continue until Mistress Alexa is utterly satisfied and says enough.
Practising semen retention allows me to have an erection far more often. Once I've calmed myself from potential ejaculation during lovemaking, I can resume activities unlike when I was allowed to cum. After ejaculation, a penis obviously can't get hard again for a while, but this doesn't happen if you don't ejaculate.
Since Lady Alexa also enjoys seeing my clitty hard for long periods as a sign of respect and desire for her, semen retention works for many areas of our FLR lifestyle and not just lovemaking.
Naturally, I am left with an intense frustration at not having orgasmed after sex but this is outweighted by the added intensity in our relationship and my wife's satisfaction. After a day or two, it appears that my body has absorbed or discharged anything that may have been generated and the frustrations fade away until next time. A kind of failed orgasm but internally."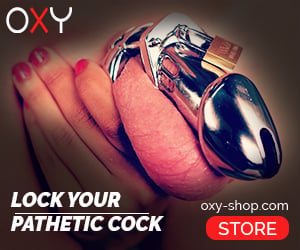 "There seem to be many variations of sexual continence and one technique is called Karezza. The interesting part of Karezza is that male orgasm is separated from ejaculation. Using this technique, it is theoretically possible to have a male orgasm during sexual intercourse without ejaculation. Without discharge, an erection is maintained.
According to my online research, it takes two to four weeks for the body to fully recover from ejaculation so unless procreation is desired, which it isn't for us, male ejaculations should be avoided which is Lady Alexa's point.
What we don't know is if a dry orgasm affects Lady Alexa's other issue that my submission and feminisation takes a hit after orgasm. Is it the orgasm or the ejaculation that cause the fall? I suspect the ejaculation is the problem but we're unsure and the research does not cover FLRs and male submission.
Lady Alexa will often stroke my hard clitty lovingly after lovemaking when I'm obviously still hard and desperate. She's can feel when I get close to trigger time in this situations and controls the situation herself. It's loving but extends my agony.
She will tell me when she's stopping for a few seconds so the, "little princess can calm down a little," when she feels I'm close."
"She understands it's frustrating for me and she's not without sympathy that her rule can be frustrating for me. While playing with it or stroking it, she always asks if the "little princess' is OK" or if "she's frustrated at a lack of release" . When I tell her not cumming is frustrating, she says she knows but "it's for the best, cum is so disgusting."- "We don't want any nasty messes", she'll tell me.
I also know there is more to it than avoidance of mess and smelly discharge. She enjoys the power of controlling my ejaculation and enjoys the tease. Her enjoyment is the main purpose."
THE FUTURE OF CUM DEPRIVATION
Stopping sissy ejaculations is a far a better alternative to chastity and ruined orgasms for me even though it has same overall effect that the sissy doesn't orgasm. The mess is avoided entirely. And ejaculation is a virile male thing so it's not approriate to a sissy.
Suppressing sissy ejaculation is a far better option for most dominant ladies because we don't have to put up with the sissy mess that still comes with ruined orgasm but it also improves sex with our partners. There is no sex with sissy chastity so what good is that for a dominant lady in a loving FLR?
I'm not looking to stop Alice's orgasms, just her mess. If she can eventually learn to dry orgasm through the techniques she's looking into then that should be fine so long as she doesn't lose submission or erection. Time will tell.
Let me know your experiences in the comments.
If you enjoy the stories of my and Alice's FLR, you can send me a sissy donation for $5 by clicking on the donate button below.