Although it does seem to be mostly males who want force feminisation, there are some of us women who do prefer our husbands and partners to be feminized as part of Female-Led Relationship.
Despite the fantasy stuff you see all over the web, what we want as women is for our men to be female and submissive but to remain biologically male. A female husband? A man in a girl suit?
A FEMALE HUSBAND, BUT STILL MALE
I've started to get a fair bit of correspondence from women who live in an FLR with their feminised husband. It seems that everyone's FLR is slightly different, although in most cases it seems to be the man who wanted to be feminised and the lady found the way for it to benefit her.

I always realised the potential benefits, but mine and Alice's FLR seems to be a little different to most in that it was me who wanted a feminised husband.
But, the point about an FLR and a female husband also being of benefit to the lady of the house, rather than just the male playing out his fantasy, is the key which seems to pass many men by.
Here's a lovely story from Helen, who wrote to me recently about her own FLR with her female husband, Amy. He wanted to become feminised and Helen found the way to make it work.
Yet another case of be careful what you wish for?
HELEN'S FLR
I liked that many of Lady Alexa's posts are about real feeling and realistic expectations. People mistake our FLR feminized partners' soft and giving sides for weakness, but we know that isn't true.
I was so glad to find Lady Alexa's site and to see there was someone else who understood that the real femdom FLR lifestyle is not about whips, dungeons and porn but something more loving and caring
It would be difficult to condense 17 years in our FLR to a paragraph or two. I believe we live close to the goals Lady Alexa has and, although perhaps we've gone too far in my husband's feminization, it works for us.
MY FEMINIZED HUSBAND
My former husband, and now wife, Amy, is not transsexual. I know it's a fine line, but she is a man in a girl suit. I love Amy for all she is, but I still need and enjoy the male part.
I've been luckier in life than I could have ever imagined, both in love, and also in my professional life. In every way, a great deal of that has only been possible, because of my beautiful wife Amy.
She was then a he and a 25-year-old veteran and truck driver when we met. I was in my last year working that summer towards my degree. My mum was a single parent, and pushed me hard. She worked two jobs a lot to get me through, even with a scholarship.
She taught me to stand on my own two feet and to be as independent as I was able. I could never have imagined how my marriage would turn out though. People in small Midwestern USA communities aren't exposed to much in the way of alternative lifestyles.
The short version is we met and fell in love. Shortly after, we had a very tear-filled confession about his cross-dressing and, in the end, we married. Then we struggled with it.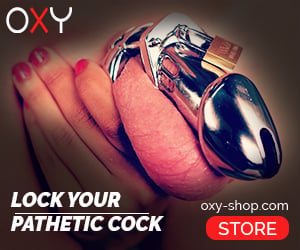 A CROSS-DRESSING AND FEMINIZATION MARRIAGE
There are a hundred degrees of cross-dressing, from panty fetish to full-blown wrong body, wrong sex. I soon got tired of guessing what my husband was. He went from from being a happy CD at weekends, and a moody not CD during the week when he had to be in male mode for work.
So I read what I could find. Amy was always trying to put my feelings first, which made things bearable and this helped me to try to help him. He found it difficult to explain this desire for cross-dressing but at the same time, to remain a man biologically, just as with Lady Alexa and Alice.
At that time I hadn't read her blogs and I felt alone.
Eventually I found information on submissive and cross-dressing husbands. I began to understand what it was my husband needed and that it wasn't so unusual. I found I wasn't the only women to be in this situation. I decided that the only way to live with my husband's needs was to face up to it and accept it. In fact, to drive it forward and take the lead on this.
He was as lost as me and needed guidance himself.
We took little steps at first. I got him to lose the leg hair; isn't that prettier hon? Wouldn't you like to dress more often at home? Then, wouldn't that bra would look so much better on a bare chest. Surprisingly, I really didn't mind, quite the opposite.
MOVING OUR FLR ONWARDS
Almost 2 years after those first tentative steps into our FLR/feminisation, I landed a huge client at work and got promoted on the back of it. I was promoted again when my firm was bought out shortly after.
This drove me on to take some more steps in Amy's feminisation and his conversion into my housewife. Amy lived to make me happy, so this wasn't difficult. I taught him basic makeup and I bought her more female clothes. I got him to remove all his body hair.
Still, I could see it wasn't enough, for either of us. So, one Friday morning after he left for work, I laid out a little black dress I had found for him in a sale, black bra, panties, garter belt and lace top and hose.
He had half days on Fridays at the time, so before I left for work myself, I wrote him a note to tell him to have dinner ready and to be all dolled-up and pretty when I got home.
When I got back he was gorgeous, a bit too much perfume maybe and the eyes were a bit much, but very feminine. After a lot of teasing, and telling him what a cute little wife I had, and after a few glasses of wine, I sat him down and changed our lives forever.
Sitting nylon knee to nylon knee, I ran a fingernail up her (no longer his) thigh, and said, "you love this girly stuff don't you? This is who you want to be and who you really are, isn't it?"
Amy melted into a helpless mess and said yes. Then I told her to tell me why she loved me, who I was in her heart and why she needed me if she was so into being a girl herself.
I thought I knew she loved me, but what poured out of her almost in anguish just blew me away. Even I was in tears.
I'm not a very large woman. I have a nice figure and people say I'm attractive, but I'm not the goddess Amy sees. I'm not the reason she lives for, or God's gift to the world!
So I took out the gift bag I'd brought home and said it she felt that way, she should give me her male wedding ring. She completely fell apart then, and sobbed like I've never seen a man sob before.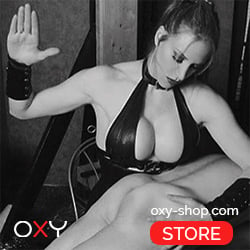 After much soothing, I took Amy's male wedding ring and gave her the woman's diamond engagement ring I had in the bag. I told her I'd be her goddess, and all that went with it.
But, if this was who she was then she had to be that every day, even at work. Maybe not makeup, but certainly bra and panties under her male clothing every day in the office. She had to be shaved of body hair every day, no guy clothes at home, no guy clothes at weekends.
If in two months she was sure, we'd have a new wedding, she would take my last name and she would become a loving, submissive wife. She was sure and we redid our vows on our wedding anniversary and she became my wife.
FLR, FAMILY AND FRIENDS
Unlike many FLR / force-feminized couples who go for an FLR once they have an empty nest, we had children. And our families know.
Both of our mothers and Amy's older sister support our life.Amy's dad just can't begin to understand, it is very uncomfortable for him. Most people think he's trans, but of course, he is not. They don't get that a man can be heterosexual but enjoy being in what is considered female clothing and lifestyle.
Amy gave up work to live full-time as a woman and is a now stay-at-home mum with no male clothing. The kids were surprisingly fine with our new lifestyle, even though our son is all boy. They are now teenagers.
All these years later, I'm still the centre of Amy's world, his goddess he worships. I think this is a point many men who want an FLR, and to be feminised don't grasp. The woman has to become their goddess for it to work. There has to be a big incentive for the lady too and in our case, I'm Amy's goddess
Ridiculous as it sounds to me still, Amy needs that. She wants and needs to worship me. There are worse things than being worshipped.
FURTHER FEMINIZATION
Our FLR was working. We decided to go to the next stage: try one round of hormone therapy. We stopped, then tried again, then stopped. It was a big step and although we were both excited by the idea of Amy looking even more like a female, we were also nervous.
Finally we went for it and after 5 years, Amy now has hips, a cute butt and very full C cups. Her man parts still work and she is beautiful. For years we we still dis the him and her at some functions, but she can no longer pass as a man any more, at least not easily.
We are totally monogamous. I love her more than I could tell you, and even when I'm a total, selfish bitch, she loves me more.
REFLECTIONS ON AN FLR AND A FEMINIZED HUSBAND
I'm glad I found Lady Alexa's blog. I had tried to communicate with others but mostly, they were either bitter women or men pretending to be a woman for kicks. I know Lady Alexa has had the same problem in her own inbox.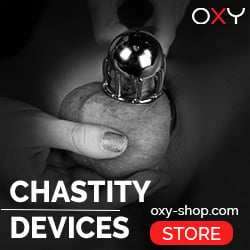 I liked that many of Lady Alexa's posts are about real feelings and real expectations and issues of an FLR with a female husband. I'm so glad to find someone else who sees that the femdom,FLR and forced feminisation lifestyle is a real loving relationship and is not about whips, dungeons and porn.
I work insane hours at times, but I don't have to lift a finger at home. My home is spotless, the kids are amazing and our lawn and garden are beautiful.
And my partner still worships and adores me. They can have their real men, I know what's best for me.
FURTHER REAL-LIFE FEMINIZATION
If you enjoyed that lovely true-life story from Helen, why not check out my own true-life forced feminization of my husband in my book, How I Feminised my Husband, and yes that's my Alice on the cover. Great legs.
Click on the cover to see more.
As you know, he (she?) was less keen to become a girl so needed a lot of gentle and persistent coaxing. I got there in the end and we're both happy.
It takes a lot of time and effort to bring you my feminisation and femdom blog. Please help to keep it going by making a donation
Click on DONATE below and leave me any amount and select payPal or card.
You can also send me an Amazon eGift Card for any amount to ladyalexa@mail.com
Don't forget to let me know who you are and what you enjoyed. I respond in person to everyone who sends me a tribute.