I continue to be challenged by the topic of the feminized male clitty? Obviously I expect my girly husband's little thingy to function and so does she, we are a married couple after all. On the other hand, it's a constant reminder of her last vestiges of masculinity.
Hormones and other even more drastic options are not an option. So how to control the feminized male's clitty? I have a couple of ideas.
FORCED FEMINIZATION IN AN FLR AND LIFESTYLE
Before I start on the subject of feminized male clitties, bear in mind that some of the links in this post are affiliate links. If you go through them to make a purchase I will earn a commission. You won't pay any more by going direct so the decision is yours. Whether or not you decide to buy something is entirely up to you.
I have covered the topic of what to do with the male genitalia in a forced feminization and FLR relations before. You can find more here…
My thoughts on a sissy's clitty
However, I don't see much written about how to feminise a male penis beyond using hormones and some of the more eye-watering options, eye-watering for Alice that's for sure.

A penis is, by definition, a very male object. It can really spoil the whole look of your man if you're trying to turn him into a girl, as I am.
I'm obviously not talking transgender or biological sex change so surgery and hormones are not part of the solution to feminising my husband. No, I merely dispute society's view of what a truly biological male should wear and how they should act. This is the case in my relationship and why it's important for female leaders, such as me, to have full control of their male partner's penis. Or should that be clitty?
Add in the FLR / Female Domination dynamic of our relationship, and we see the male penis can co-exist on a husband who's now a girl. Sort of.
This means that there are certain measures I need to take to ensure Alice's little thingy is as feminine and submissive as possible, whilst remaining fully operational.
HOW TO DEAL WITH THE FEMINIZED MALE CLITTY
Well, you can do lots of things with your man's clitty and it all depends on what you want in life and from your relationship. I know that many sissies just love having it locked up. Most women, on the other hand, just don't see the attraction to be honest. It's a sissy thing.

So here's what I think is needed to subjugate that little princess hanging between a feminised male's legs.
Give it a feminine or cute pet name: Clitty, the princess, pussy, she, the little girly, a pickle etc.
Use constant vocal reminders of its femininity: she's so cute. she's so small, what a pretty little clitty, etc.
Display it. Keep it exposed to show its vulnerability.
Shave it and shape his pubes into a feminine triangle or Brazilian.
Decorate it: Pretty pink ribbons, cock and gland rings, hanging or clip on jewellery etc.
Use it for light punishment slaps.
Agree that its ownership has passed to the lady of the house. No masturbation without supervision etc.
Lock it away.
You can see more about these ideas at this post Redesign your sissy's clitty
INCREASING YOUR CONTROL OF THE SISSY CLITTY
One area I've not had much success in is locking Alice's little princess away in a cock cage. There are a number of reasons for this:
I've tended to think it's a sissy thing, they love their little pickles being locked up. It doesn't do anything for me.
When I've locked Alice's little princess up in a cock cage, it has chaffed and sweated.
I like to play with it regularly – see items 1 to 6 in the list above. It's fun.
I use it regularly for normal female/male relations and fussing with a lock can be a pain.
But, I've come round to the idea of putting Alice into a cock cage for when I'm not with her. When we're together, then her little princess can be unshackled. When I go out, I lock it away.
I really don't know why I didn't think of this before. It makes a lot of sense. It gives me full control over her clitty.
Whilst I clearly have full ownership and control of Alice's clitty, it's based on trust. I have no reason to mistrust Alice, but I now believe that's not enough. That control and ownership needs to be physical, real and visible. A cock cage is back on the agenda for Alice.
There are benefits to this part time approach:
Wearing the cock cage part time means it's released when I'm with Alice allowing me to decorate it, expose it, play about with it and so on.
It's a physical reminder, when I'm not there, of my complete ownership of Alice's clitty.
It diminishes the male clitty's importance for the feminised male.
The sissy clitty is so much fun, don't you think?
SOLVING THE ISSUE OF COCK CAGE DISCOMFORT
Discomfort was another reason why we didn't really use Alice's cock cage much. We tried, but it didn't really work for either of us.
We found that the plastic and silicone devices enclosed her little princess too much and didn't allow it to breathe. In addition, she needed to keep removing it to clean it properly. I don't want her with a sweaty or salty smelling clitty And of course there was the chaffing problem.
The answer appears to a steel cage. As long as it's medical quality steel, the material is better against Alice's delicate clitty skin. The cage is more open and this let's her little cutie breathe and it's easier to wash without removal. Everything's much more hygienic.
It's also important to get the size right. You can find more information on how to correctly choose a cock cage by clicking on the image below.
CONTROLLING A MALE'S CLITTY
I think I've found a nice balance now regarding Alice's little princess. Locking it away when I'm not with her is a nice way to demonstrate my ownership and control.
Releasing her when we're together allows me direct control and access to my little toy.
I know Alice finds the new routine a bit of a pain, but she'll get used to it as she has the other routines. I do believe that male chastity using cock cages is a sissy thing which is why I've always had a problem with them. I think I've stumbled on an approach that works for me too.
Do comment or send me a mail via contact me to let me know what you think about my new approach to cock cages for Alice.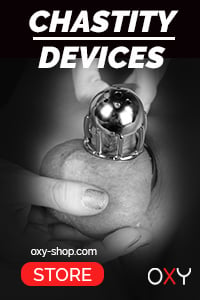 If you enjoyed this post, why not honour me with a tribute? It helps me to keep writing these articles.
Send an Amazon eGift voucher for any value to ladyalexa@mail.com.
I respond personally to every person who honours me