I've written about the topic of feminising a male's clitty before. Aside from wanting it to be fully functioning for my personal needs, at all other times the sight of something so associated with masculinity is not so good and we need to do some work on this area.
Since I need it to be working, my only option is to re-design it superficially in order to make it appear more feminine.
Displaying his clitty
An aspect of my FLR marriage is that Alice has to often have her clitty out on display for me (and other mistresses). This is necessary I believe to show the disparity in status between the clothed female and submissive feminised male who can be allowed to have no personal privacy.

The problem is of course, is that your submissive male may be humiliated at having to display his clitty, but at the same time he may also have feelings of masculinity seeing it, especially if it gets hard. So then we get a supposed feminised husband feeling proud of his erect member, albeit embarrassed at it being on show.
So as my regular readers know, I do various things to feminise Alice's clitty. I find the following do the trick in re-designing the former male member into a cute feminine clitty.
Feminising his clitty
Re-name it: This is obvious but it needs a feminine name. Clitty for the stick and pussy for the whole groin area.
Verbally humiliate it: When Alice is standing there in all her erect glory in front of me and one of my mistress friends she needs to be told her clitty is pathetic, small and useless. It's important to laugh at it, which isn't difficult in the circumstances. I like to demean it regularly, it's an overhead but well worth it.
I also have a new approach in that I wear surgical rubber gloves to touch it, telling Alice it's disgusting. Feminised former males can't be allowed to think their little tinkies are in any way important or significant.
Shaving it: Of course this is another important aspect of re-designing his groin area that all dominant women use. Some mistresses prefer it shaved entirely. I personally think it's better if it's smooth except for a small amount of shaved tidy pubic hair above her clitty. I've tended to go for the triangle design but I've told Alice I fancy a change and she should go for a Brazilian next time. I drew the size I want on her pubic area with indelible ink.
Decorate it: I usually decorate Alice's clitty when it's on show to make it look more feminine and pretty. It removes any feeling she might otherwise get of masculine pride.
So when it's on display for me or others, as a basic decoration I tie a pink bow around her pussy balls with the bow laying on the top of her clitty. I might add some clothes pegs for discomfort. If I'm really in the mood for decoration, I'll clip on drop earrings to her pussy balls and maybe hang other jewellery around it.
Another new idea I've had recently is to draw on it with body paint or with indelible ink. I like to write clitty along the little stick for example, or sissy.
Lock it up: I've noticed that  sissies love having their little clitties locked away. I understand from various studies I've read that it's something to do with delayed gratification and prolonging the excitement and anticipation of some future ejaculation.
I do lock Alice's up at times for my own control purposes, at other times it's released. I'm not really interested in Alice's or any other a submissive's excitement and gratification. It's about demeaning their former male bits and putting them under control. Alice knows that she is needed for my gratification so there's little chance of any delay. It's about my control.
Punish it. It's valid to use his clitty for punishment. Slaps with the hand, crop or wooden spatula are effective. It shows further your control over it, and its insignificance that you can use it to admonish him
Re-designing your sissy's clitty
Re-designing your submissive's clitty is more than just the physical and verbal activity about making it more feminised. It's about getting into his head that he's a girl and that his little stick is feminine.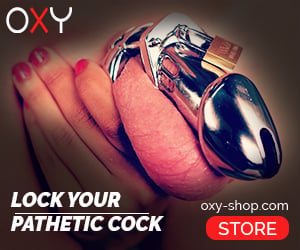 I believe it's a physiological imperative to put effort into this. If you don't then your feminised man will always see his little tinky as something more than it really is and it will act as a reminder that he has some residual masculinity. When in reality all it's there for is the purposes of the lady of the house to use as she sees fit.
If you enjoyed this article, why not send me a tribute?
Send me a donation by clicking on DONATE below. You can choose PayPal or Card and pay anonymously if you prefer.
Or you can send me an Amazon eGift Card to ladyalexa@mail.com