My husband has a new forced femininity regime, which means every dark cloud has a silver lining. I'm talking about the dark cloud of coronavirus lockdown, here in England. The silver lining being that my girly husband has no reason not to be a full-time girl. No more excuses to change into male top clothes to leave the house, she's not going out.
Delicious. I even get to dress her in even more humiliating girly ways….
A NEW FORCED FEMININITY
I do hope you are all well in these unusual and difficult times. However, since we're currently forced to stay in and maintain social distance, I think we should look for any advantages to our enforced, but necessary restrictions.
Some of the links in this post are affiliate links. This means I get a commission if you make a purchase through them. You won't pay any more than going direct so the choice is yours.
So more forced femininity for my husband then? That seems like a plan.
I have to be honest, I get more than a little power rush from my control over Alice. It's intoxicating and thrilling to be able to do what you please with someone, especially someone you care for. To be able to remove your husband's masculinity is the ultimate level of control and power. It gives me a level of excitement and arousal that nothing else could provide.
Call me weird, or even perverted, but I think I'm a very lucky lady to have found this and Alice is a very lucky girl. She is receiving the gift of feminisation. It works for both of us, although Alice does need a bit of a prod at times.
THE NEW FEMININE NORMALITY
In this strange times, I've been able to expand Alice's feminisation. So, what is the new norm for my girly husband? These are my new updated and additional rules of the house:

Varnished finger and toenails. We can't go out, no one will see her. Therefore, I expect her to apply coloured varnish to her nails every single day. Pink or red is nice.
Obviously Alice has to wear a skirt or dress, that goes without saying. However, some days I now expect her in a pink tutu. All day and night. Other days I have put her in a tiny pencil skirt so short it rides up when she sits or walks. I like her in skirts that don't cover her, it adds to her vulnerability and that is something that gives me intense pleasure and, I have to say, a lot of amusement. I have the time to select her clothing now.
Jewellery. Earrings, necklace and rings every single day.
Makeup. Eyeshadow and lipstick must be applied every morning, along with other facial makeup. It has to be touched up regularly.
Bra. Alice hasn't always worn a bra. She claims that when she goes out people can see the outline. Well she's not going out, is she. So. A bra. Every day. No excuses.
Decorated clitty. I expect her little girly pickle to be be decorated and made pretty every morning. A pink bow as a minimum around the base, even under knickers. Maybe a ring or some jewellery at times.

IT'S TIME FOR THOSE ADDITIONAL FEMININE IMPROVEMENTS
I've been lax about some of the improvements I want for Alice. Amazon and other delivery services are still working albeit slower and reduced. I have the time to order those things I have written about but never got round to. Here are some of my plans:
Metal cock cage
I don't subscribe to using cock cages for a sissy's excitement. That said, I do realise now they can have some benefits if used correctly for the gain of the female leader.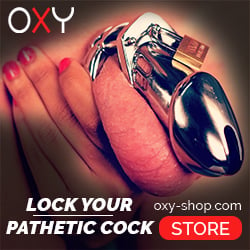 One benefit is to allow complete control over the male clitty for when the lady is out.
The second benefit is that there is anecdotal evidence that regular use in a small cage can shrink the male clitty. Obviously I want Alice's little girly princess to function, but it would be nice to make it a bit smaller, cuter and more clitty-like.
I'm not really sure if putting her clitty in a small cock cage would really reduce her size but maybe it's worth a go now that she's indoors all day and night?
I'd like to hear anyone's experience of this method before I buy a new cage for her.
For some more ideas on dealing with male clitties have a look here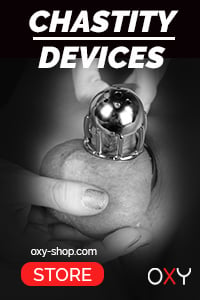 Transformation Panties
I really don't know why I haven't got round to ordering these yet. These are the panties that shape a male's clitty into a nice female genital look. It looks like they have real girly labia. Time to order and get Alice into them.
Exercise and Diet
Alice's exercise regimes have been a bit hit and miss. Now I want her to have an emphasis on belly reduction. She's not fat by any means, but there is a bit of male middle age spread that needs to go.
She's around 36 inches around the middle, which is ok-ish for a 6ft man but useless for a girl. I think she could take four inches off with some effort. I'd really like her at around 28, but I have to be realistic. We've tried this before and I do know it's much more difficult than when she was in her 20s and 30s.
A slim girly waist is my objective for Alice during the lockdown.
FULL-TIME FORCED FEMININITY
I'm enjoying her constant femininity so much, I can't see how I can go back once lockdown is suspended at the end of this pandemic crisis. If nothing else, I will want a new level of femininity from my husband.
I'm sure I'm missing something, maybe around giving her better breasts?
If you have any good ideas to increase Alice's femininity while we're stuck in the lockdown, please leave a comment or send me a direct message.
And stay safe.
If you enjoy my articles, why not send me a thank you in the form of a Amazon eGift voucher?
You can send a voucher for any amount to ladyalexa@mail.com
Thank you – I reply personally to everyone