A sissy husband is such a fun thing to have
This post is a follow on from my previous post A Sissy Husband and A Strict Wife where I discussed a stronger control mechanism for my sissy husband and my reasons for taking this approach in our wife-led marriage.
Many readers misunderstood the nature of my control, mistaking it for chastity. Other readers were concerned about health issues. Let's look at what I mean by control and mess prevention in more detail, why I'm continuing to employ it on my sissy husband and how it's progressing.
SISSY CLITTY CONTROL
I've always believed that one of the most important elements of a wife-led marriage is control of your male partner's genitals. I feel that it's possibly more important than putting your husband in a pretty skirt.
I've written about this before in other posts such as Controlling the Male Clitty, Redesiging Your Sissy's Clitty and My Thoughts on a Sissy's Clitty.
Since I don't want chastity in our marriage and I believe chastity cages are primarily about the sissy's excitement, I've only recently realised the benefits of controlling ejaculation in an FLR.
This post contains affiliate links – you pay the same price as buying direct
MESS PREVENTION
Once the business of reproduction is done, there is little need for a sissy to ejaculate. If they do, the only result is a sticky smelly mess and a noticeable reduction of interest in being submisssive and girly for a day or two. Ejaculation is nothing more than a moment of sissy pleasure. This is not the point of a wife-led marriage.
Ejaculation prevention is therefore a highly effective control mechanism that places the entire focus of a relationship on the mistress's pleasure. And fun.

So what do I mean by ejaculation prevention? Let's be clear.
Ejaculation prevention is not chastity. Alice's clitty is not regularly locked (note Chastity Cage section below.) We enjoy full marital relations in the bedroom (and elsewhere) regularly. We are like any normal loving husband/wife vanilla relationship. We have full sexual relations, the only thing missing is Alice must not cum.
Ejaculation prevention means exactly that, never ejaculating. I'm not talking about spoiled orgasms or milking. I mean not cumming. Spoiled orgasms/milking defeats the point.
I am unconcerned about Alice's orgasm. I realise there are a short few frustrating moments for her where she misses the feeling, but it's shortlived. She can get over it. If she could orgasm without release this would be perfectly acceptable. I'm not practising ejaculation prevention to spoil her orgasms but to prevent having to experience all that smelly mess males produce. I believe there are ways for sissies to orgasm without release and if Alice can find a way then that would be fine by me. The onus is on her to make this work in any way that does not break my basic rule of no discharge. That's all I ask for.
I have found no physical reasons why this is dangerous. If you have doubts in your own relationship, you should consult a doctor. I am not a doctor I've just researched on medical web sites and my experience so far is positive.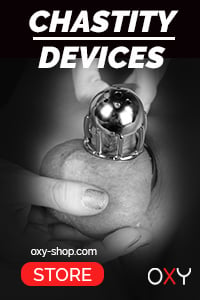 During intercourse, Alice is learning to stop prior to cumming, cool down and start again once calm. The onus is on her to ensure my full satisfaction beforehand so I'm not inconvenienced when she stops during a session. It's her responsibility to stop before ejaculation but I do keep a watch on things just in case.
I would be extrememly annoyed if she were to cum. She would face punishment but I would also view it as a betrayal. This is too serious to contemplate and she knows it.
THE BENEFITS I'VE OBSERVED
Alice hasn't cum for several months. This is what I've noticed in Alice so far. This is not a medical research just my opinion and observation:
Imroved submission.
A stronger focus on me and what I want.
Increased vigour. She appears to have more energy.
Increased sexual energy. She does not need time to recover from ejaculation, obviously. This can be a day or so at her age. She's now ready permanently. This is a wonderful revelation.
Increased focus on my sexual needs. Her role is to satisfy me.
An improved sense of self control. She seems calmer.
An improved look physically – hair, skin and eyes.
Knowing that ejaculation is not allowed means Alice concentrates in having a more meaningful relationship.
Fun for me – I can play with and tease Alice knowing she's not going to be allowed to cum. This is exquisite.
No nasty mess to wash out afterwards; I remain clean. No risk of stains on the sheets.
CHASTITY CAGE
I've always trusted Alice not to play with herself when I'm not at home. Her clitty and pussy balls don't belong to her but to me, so she's never been alowed to masturbate. Control has been easy because I expect her to perform regularly and, at her age, she needs some time to recover.
If she had ever played with herself, her performance would drop and she'd take a day or so to get back up to speed. I'd know and there would be serious trouble.
That said, I became concerned that my new no ejaculation rule would be too much for Alice and she would become weak. Human nature. I was worried she'd not be able to resist touching herself. So I bought a chastity device from my friends at Oxy Shop. It's nylon and very light with a lot of holes so she doesn't get sweaty or uncomfortable.
This one I chose was the Guardian 3D Printed Chastity Cage – You can get them here.
I only lock it on to her little clitty when I'm not at home. I remove it when I'm back. Generally I expect her naked or without panties as I want to look, fiddle or dress it up so a cage doesn't work at home.
HEIGHTENING THE CONTROL EXPERIENCE
I love to play with Alice. To have my own sissy husband that I can do anything with and to, is incredible. I would never do anything that hurt her physically (not pain or blood) nor do anything disgusting (toilet play for example). Everything else is in play and I have no limits to what I can do to my sissy. That is such a wonderful power to have.
My new power is to forbid her ejaculation.
I loved this idea so much I even wrote it into my latest forced feminisation novel now available on Amazon — Lockdown Feminization 3.
We have agreed I own Alice's body. We agree everything in the relationship and how to make it work. It's true I decided on the no ejaculation rule but we have spoken at length on how to make it work for us. I know it's not her favourite rule but she understands that in a wife-led marriage, she's not going to like everything I want but that's what she signed up for so she has to help me make it work.
I usually choose to put her in very feminine micro-skirts (or nothing). She's not permitted to wear panties these days, of course. I found the Oxy-Shop tri cock ring sling recently. It holds her clitty up and out, even when she's soft, so it pokes out on display for me at all times.
Alice can't be hard all the time, it's not possible, so this ring is a sort of splint. You can just see it in the photo below. Alice obscured the end of her little cutie in the photo as she's shy.
It's exceptional fun to play with her and get her to the edge and stop. This is something that never fails to entertain me, I often get the giggles when playing. I especially enjoy seeing her face screwed up in frustration when I stop just at that moment. She soon recovers.
A couple of rare photos with me in them Just my hands though. I'm a very private person.
EVERY WOMAN SHOULD HAVE A SISSY HUSBAND
A wife-led marriage has to be fun for both. It's a relationship where the husband agrees to give up all control to the woman. This is not a game, it's a lifestyle. It kmeans that whiel the mle will gain all the benefits of a living matriarchal lifestyle, ther emay be aspect he would not choose. This isn't optional.
I'm sure Alice would prefer to be permitted to ejaculate at times, or at least milked to relieve the pressure. But it's not about that, the pressure and the lack of release is what drives the relationship to even better levels and is the ultimate control for the woman.
And isn't that what life's all about?
I hope you enjoy my real-life posts about my Wife-Led Marriage. A donation helps me to keep this site running. Why not make an anonymous donation via the PayPal link below for any amount.